The Juneau Golf Club is the parent organization of the Juneau Junior Golf Club, providing opportunities for youth ages 12 to 18 in Juneau, Alaska. The Juneau Golf Club has contributed funds to support this valuable program as well as acted as a primary sponsor of local golf tournaments held to benefit Junior Golf in Juneau. Through generous financial support and enthusiasm of the Juneau Golf Club members, the dream of a junior program in Juneau was realized in April, 1998.
PROGRAM CHANGES FOR 2020 SEASON: In this uncertain Covid-19 environment, we are concerned that our typical Sunday group lessons could put the kids, the coaches, and the community at risk. Therefore, we have decided to cancel the Sunday GROUP events for this season. Clubs were distributed to those that needed them and had prior JJGC instruction in 2019 so those juniors can golf on their own. Registration is now closed for the 2020 program as it has been filled. We look forward to again providing instruction next year.
In prior years, Junior club members receive golf instruction and guidance in not only the sport, but also the rules, spirit and etiquette of the game. Junior members have fun both learning and playing locally with members of their own age group. The Junior Club also provides travel to golf courses elsewhere in the state. Previous road trips have included golf courses in Gustavus and Haines, Alaska.
The Junior program provides a great way to spend Sunday afternoons in the summer for the youth of Juneau. A large part of the usual golf expenses such as green fees, range balls and instruction are inclusive with membership, thanks to fundraising efforts by the Junior Club members themselves and the generous support of the Juneau Golf Club.
For more information on Junior Golf in Juneau, Alaska, contact us at juneaugolfclub@gmail.com.
---
---
REPORT FROM HEAD COACH DIANE MAYER - SUMMARY OF 2019 SEASON:
The program ran from June 2nd through July 28th.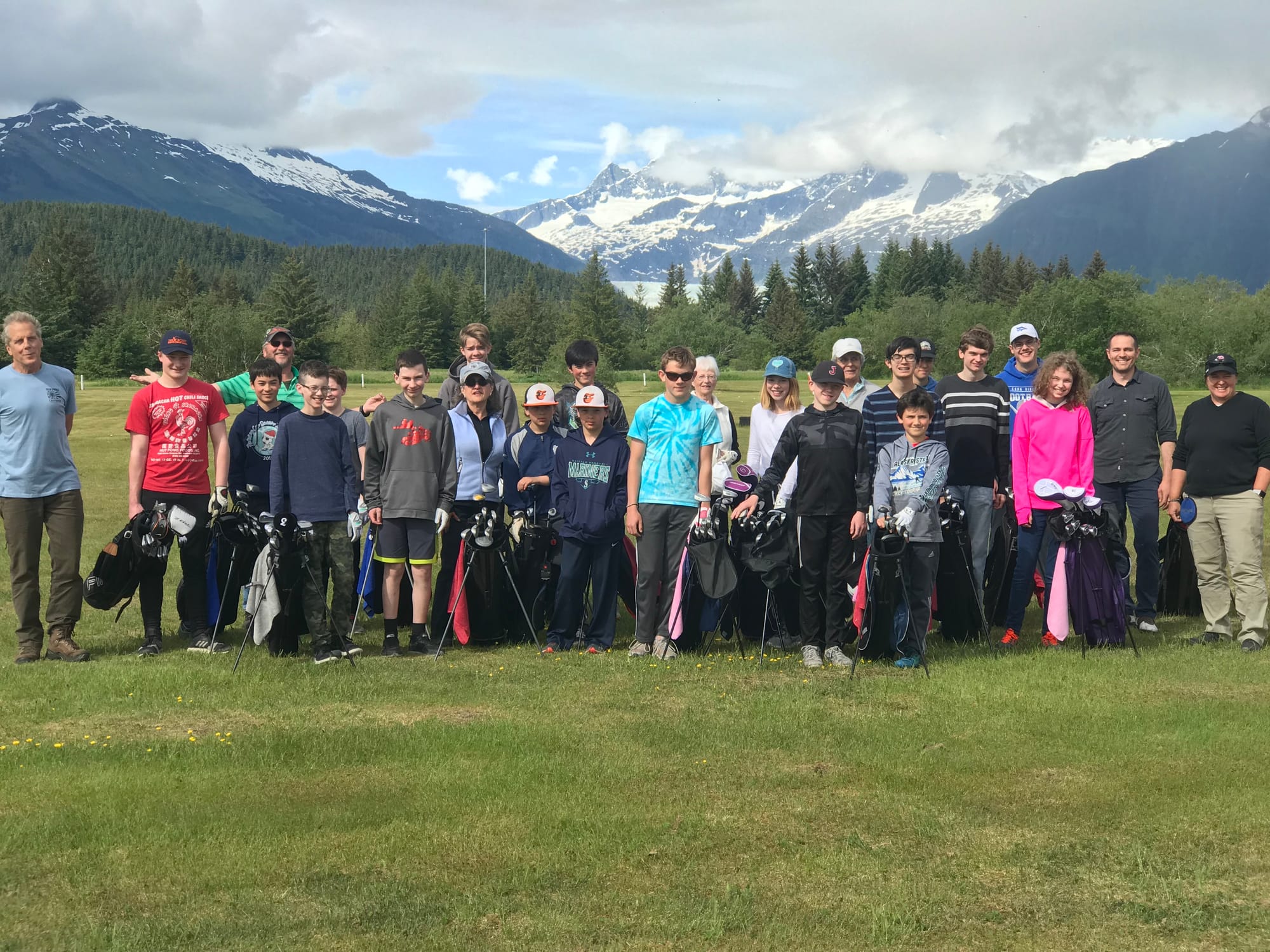 We hosted 28 junior golfers, ages 12 to 18. (Twenty of them played with the club's clubs. We hope to upgrade the club selection for the next year by tapping into "charitable donation programs" of major sporting outlets.)
Eight adults volunteered to be "coaches" for the Sunday events. (Thanks to John Bush, Tom Daugherty, Orlinda Kittredge, Stacey Kraley, Gary Murdoch, Daniel Rempel, Donna Schultz and Diane Mayer.)
Even with competition from baseball, hockey camps, soccer camps, arts camps and family travel, the juniors played 143 rounds at Mendenhall Golf Course!
We opened umbrellas only once for about 10 minutes and never wore waterproof boots!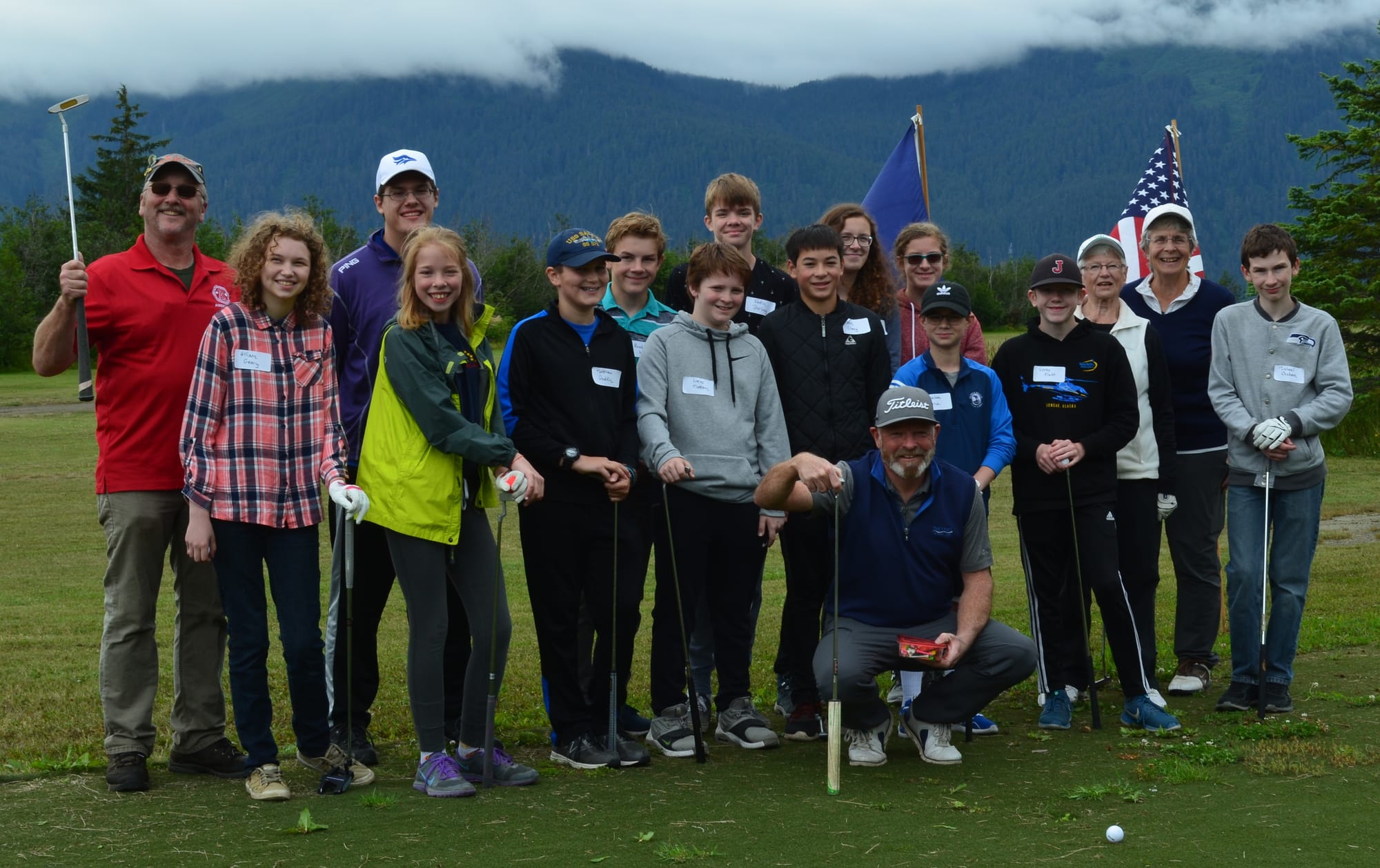 On July 21st twelve juniors traveled with 4 coaches to the Valley of the Eagles Golf Links in Haines for a session with PGA teaching pro, Niles Hackett and a round of golf. Thanks to Carl Ramseth at Alaska Seaplanes for the "junior golf special" rate! Niles set up special "forward tees" to help make the event a success.
The season ended with a pizza party at the valley Bullwinkles.
The Juneau Golf Club and its sponsors have shown consistent generosity towards our junior golfers and promotion of this great game. Please know that the kids (and their parents) appreciate your support. The coaches had a great time too!
Thank you!
Diane Mayer